How to Manage Gear Shifting Problems in a Mercedes
Posted on October 14, 2018 | By wpcars
If you have a Mercedes, you have a reliable car that you have invested quite a bit of money in. While these vehicles are known for their dependability and durability, they can break down and have issues just like any other vehicle. Routine maintenance can significantly reduce the risk of expensive repairs and major malfunctions.
In the past, Mercedes said the transmission was sealed for life and did not need any fluid changes. However, that is not something the automaker touts anymore, as they are aware that the vehicle's transmission fluid will require changes.
Mercedes Transmission Maintenance
The maintenance manual for your Mercedes will indicate when the transmission fluid should be changed on your specific model. Some of these models will require an inspection and change every 3 years or 30,000 miles while other models indicate every 5 years or 75,000 miles. There is an indicator on your vehicle's control panel, which is sometimes in the form of a single wrench icon that illuminates when it is time for transmission maintenance.
The maintenance schedule will determine what is needed for your transmission and if there are issues that need to be addressed before you end up facing a costly repair. You should have your Mercedes transmission serviced at a qualified transmission repair shop that is knowledgeable about Mercedes vehicles.
Problems From A Malfunctioning Mercedes Transmission
When an automatic transmission from a Mercedes is malfunctioning, your vehicle could shift suddenly from one gear to another without warning. There is the risk that your Mercedes will not shift into gear, but it could just freeze on the road.
Some transmission issues in a Mercedes have nothing to do with your transmission fluid. There is an electrical connector that could be broken or damaged. This can cause serious damage to the vehicle's transmission control module, which could even lead to the wiring harness and the control module both needing complete replacement.
Transmission leaks are also serious and need to be fixed right away. Other transmission problems might include issues with the shifter module or conductor plate, which can have a significant negative impact on your Mercedes's transmission shifting abilities.
Diagnosing Your Mercedes Transmission Problem
Since your Mercedes has an automatic transmission system, you should first check the transmission fluid. It should be a dark red color. If it is black, it needs to be changed along the transmission oil filter. Afterwards, check the transmission fluid level while the gearbox is still warm. Recheck it after the selector has been moved through all the gear positions, making sure you leave it in each gear for a few seconds before putting your Mercedes back into park. Always use the recommended oil and the proper amount. Sometimes the recommended fluid might change, so it is wise to ask your transmission repair shop about this to ensure you get the correct information about the fluid needed for your Mercedes.
What If Your Transmission is Stuck in Gear?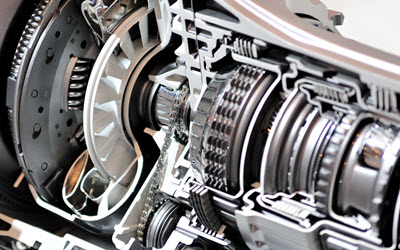 Sometimes a transmission could be stuck in gear. If you are far from home in your Mercedes and it becomes stuck in gear, here is something that you can try to see if you are able to get your vehicle back home or to your local repair shop. You should pull over to a safe location and turn off the car's engine. Remove the key. Don't press any buttons on the car or the gas pedal. Wait 20 or 30 seconds to restart the car. Put the car in drive and try to operate it, checking to see if it is out of limp mode.
At this point, your vehicle's transmission might seem to be back to normal, but there are still underlying issues that must be addressed. If you don't take care of these problems, your car will start going into limp mode more often and the damage will worsen. You will need to take your Mercedes to a repair shop to find out why your car's transmission is going into limp mode or why it is not properly shifting.
If you need to know how to manage gear shifting problems in your Mercedes, bring your vehicle to our skilled service technicians at Louden Motorcar Services, Inc., serving Dallas, University Park, Highland Park, Irving, and Coppell, TX. For more than 4 decades, we have been servicing German vehicles throughout the Dallas metro area, and we're happy to add you to our roster of satisfied customers.