Is Your Blower Motor Resistor Failing in Your BMW?
Posted on May 13, 2018 | By wpcars
BMW maintenance should always include a solid, foundational understanding of the common problems BMW vehicles typically encounter. Although BMW cars are some of the most desirable in the automotive industry, they are not without their faults and deficits. Just like any other car, BMWs can encounter performance issues that are concerning and inconvenient for drivers.
One such issue that BMW drivers commonly report is a failing blower motor resistor. Failure of this part can lead drivers to become especially dissatisfied with the comfort of their luxury, German vehicle, when it was once considered to be probably the most comfortable vehicle they've ever driven. In this article, we'll talk about the function of the blower motor resistor, common problems and symptoms associated with its failure, how to diagnose the issue, and what you can do to prevent problems from occurring.
What does the blower motor resistor do?
The blower motor resistor in your BMW is part of the HVAC system, or the heating and air conditioning system. The system requires a motor, called the blower motor, which powers the fan utilized to propel air from your cabin vents. The blower motor resistor controls the speed of the blower motor indirectly by relaying electrical current to the blower motor control module. If the resistor isn't working properly, then you'll experience concerning and inconvenient symptoms in your BMW's cabin.
Common Problems and Symptoms
While blower motor resistor failure isn't unique to BMWs, they still tend to experience them more than some other vehicles. It's important to be able to notice slight changes in your BMW's performance so that you can address such issues before the colder or warmer months of the year come up, leaving you without a working HVAC system. These are the most common problems and symptoms associated with blower motor resistor problems:
HVAC fan doesn't work at all
In BMW cars, the blower motor resistor often overheats due to incorrect current measurements implemented during the design and engineering of the vehicles. This can cause the HVAC fan to not work at all due to motor failure, and it is unable to blow any air out of the vents. This can be highly concerning during especially cold or warm months of the year.
HVAC only runs on one speed
Additionally, if the resistor stops working you might notice that the HVAC can only run on one speed—usually a high speed. While this isn't as bad as no airflow at all, it is certainly inconvenient for drivers.
Diagnosing the blower motor resistor
In order to properly diagnose the blower motor resistor in your BMW, it is critical to hire a shop that specializes in BMW maintenance and repair work. Since this problem is somewhat specific to BMWs, it is important that any repair work be performed utilizing the right parts, skills, and techniques that work best with BMW cars. If your BMW specialist cannot detect any visible signs of damage or corrosion to the resistor, then other methods must be implemented to diagnose the blower motor resistor as the source of the problem. Your BMW technician will test the electrical current and compare it to the optimal performance conditions for your specific BMW model, then replace the part as-needed.
Why BMW's experience issues with this part
Unfortunately, automotive mechanical engineering is not always a perfect science, but a type of trial and error process where car models are consistently improved upon over time based on previous models' failures and problems. For BMW cars, a failing blower motor resistor is commonly part of an engineering and design deficit that owners, drivers, and technicians must remain cognizant of in ongoing maintenance tasks.
How We Can Help You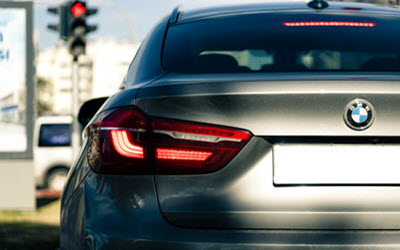 At Louden Motor Car Services Inc., our BMW-specialist technicians have a diverse background in a range of BMW models, giving us unique experience and expertise with these German-made machines. Clients from all over Dallas, University Park, Highland Park, Irving, and Coppell, TX, have traveled to us for our affordable pricing, and standout reputation for over 4 decades of excellent customer service. Since 1986 we have helped our clients feel safer, more secure, and proud driving their BMW cars. If you are experiencing HVAC problems in your BMW or would simply like to learn more about our shop, please call one of our helpful professionals today.
* BMW X6 Back View image credit goes to: alkimsarac.