Why Mini's Clutch Wears Prematurely
Posted on June 13, 2018 | By wpcars
All car troubles are concerning for MINI drivers; they cause them to spend time and money they don't want to spend. However, some issues are more serious than others. Clutch failure is one of the more significant repairs that automotive shops see, and Mini Cooper clutches tend to wear out prematurely. In this article we'll go over why the clutch is important for your MINI's overall function, what to look for as signs of premature clutch wear, and what you can do to adequately repair your car.
What Models The Issue Affects
Clutch wear in manual transmission MINIs is a prominent issue; so much so that the issue lasted for about a decade's worth of models (since 2002) and only recently was addressed in the last few years. If you're able to take excellent care of your MINI and anticipate this issue in your own car, then the likelihood of clutch failure is lowered significantly. However, neglecting routine maintenance procedures can lead to clutch problems that will only worsen over time.
The Clutch's Important Role
Without a working clutch, your MINI won't go far—in fact, it probably won't even leave the driveway. The clutch is responsible for bridging the connection between your wheels and your engine. The clutch does this by freeing the engine each time the car must shift gears so that the wheels and engine are able to perform their own separate functions. Since early clutch wear is so prevalent in various Mini Coopers, it's important that you know more about how the clutch can fail and what you can do to prevent it.
Different Areas of Failure
Clutch wear leads to clutch failure, but if signs of wear are caught in time, you and your MINI specialist can repair damages before they worsen. These are some of the different areas that can cause clutch failure that your mechanic should be sure to inspect from time-to-time.
• Clutch fork
• Clutch disc
• Pressure plate
• Flywheel
• Linkages and cables
• Bearings
These various parts can wear on their own, causing a chain reaction of problems to occur over time, and amounting to a pretty expensive repair bill.
Symptoms of Clutch Wear
Paying close attention to how your MINI is performing on a regular basis can give you insight into how the various parts and systems are functioning. If you begin to notice any of the following symptoms in your own MINI, it's important to follow up with a Mini Cooper specialist right away; you could be preventing clutch failure.
Diminished Engine Performance
There are several ways a wearing clutch can impact your engine's performance. You might notice that your car isn't accelerating or braking smoothly, which is reason enough to have the issue checked out by a professional.
Gear Shifting Issues
This is a prominent symptom of clutch wear that could be easily mistaken for something the driver is doing "wrong." It's important to be sure your automotive shop has extensive knowledge of clutch wear symptoms in MINI cars before you ask them to diagnose a gear-shifting problem. Rough gear shifting is a distraction—especially in a manual vehicle—and can cause safety hazards.
Pedal Feel and Sound Difference
Once you've gotten used to the feel of your MINI's clutch pedal, you'll easily be able to detect differences. Similarly, a normal functioning clutch pedal will sound as though pressure is released slightly when pressed down. However, if the pedal begins to sound louder or begins to squeak, there could be an issue with the clutch.
Hiring a Specialist to Handle Repairs is Critical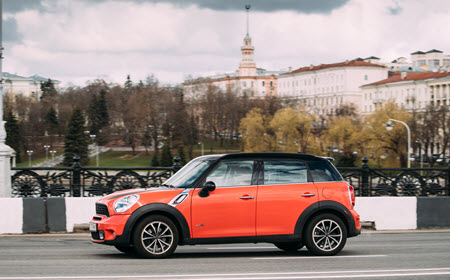 Mini Coopers are special and unique cars. Their German-engineering and design offer drivers the comfort of a luxury vehicle, the compactness of a small coupe, and the power of a racecar. Though these tiny cars pack a punch, they can still run into issues like all other cars. The MINI pros here at Louden Motorcar Services, Inc. have attended to clutch issues in a range of MINI models over the 40 years we've been serving the area. Clients from all over Dallas, University Park, Highland Park, Irving, and Coppell, TX, consistently report their total satisfaction with our work, and we take pride in our profession. To learn more about our shop or to speak with a MINI specialist, please contact us.
* Mini Cooper All 4 Car image credit goes to: bruev.